Eighth Bundanoon DanceFest 2016
Some pictures from Adam Stone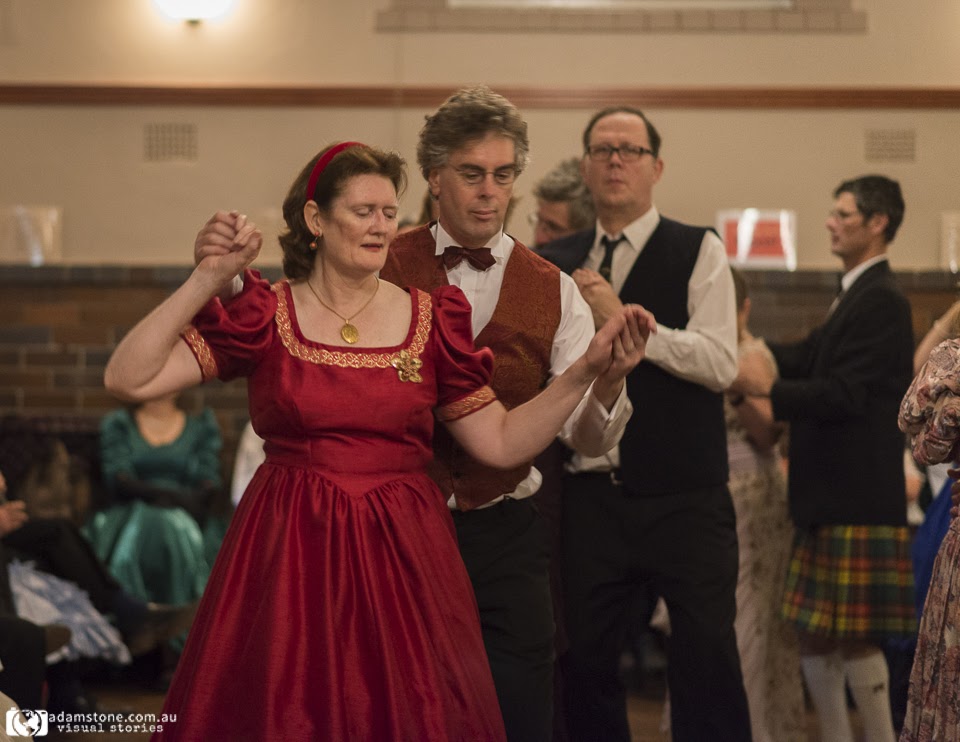 and one from Dave Johnson
Feedback 2016
Thanks to those who were able to stay and give input to a fedback session on Monday afternoon.
The main feedback was "It ain't broke, don't fix it!"
Other points made included:
several suggestions for improving the Sunday supper
inclusion of a "minority dance feature" eg rapper sword dance to provide some extra variation
earlier selection of dance callers and lead musicians and earlier posting of the music
local publicity for local involvement
And emailed comments:
Seventh Bundanoon DanceFest 2015
A rough count is 80 - lots of travellers had to leave early - not these dedicated dances and musicians!
Sixth Bundanoon DanceFest 2014
Fifth Bundanoon DanceFest 2013
June saw the fifth DanceFest at Bundanoon where dancers, callers and musicians assembled for a weekend of "unsurpassed dancing bliss".
Loved the music as much as the dancing! I could have just sat and listened to the music and been equally as happy.
I was raised on 600 acres in what I call country but have never seen anything like what I saw this weekend. It was amazing. It was fabulous!
Many thanks to one and all Ray, fabulous couple of days for me and the people, just beautiful people.
Sincerely, Di
I'd just like to say how much I enjoyed the Bundanoon weekend. It was a great privilege to run a workshop and do some calling, especially with such a good group of dancers. I was also delighted to be working with the Strutts for the music and they have offered to work with me in the future which is a great honour. I realise that people like you do have to put in a lot of hard work in order for these things to function - it is appreciated.
Stephen Loftus
Hi Ray and Dave,
Well I enjoyed myself and thanks for all your hard work.
Peter Ellis
Thanks for inviting us to be part of another outstanding Bundanoon DanceFest. Like a top shelf wine it just keeps on improving. Truly the
"Penfold's Grange" of dance events.
Paul and Leslie Carr
Gene and I had a great time at Bundanoon. Thank you very much for all the organisational work. I'm sure that the various volunteers got a round of appreciation but in my opinion, never enough!
Tony Smith
Well what a great weekend that was. Good to see so many new faces and younger ones getting into it too. When I was playing along with Bob McInnes for the Scottish section he came up with a few of my long forgotten favourites from away back.
Mont (Bill Montgomery)
It was a lovely weekend, I had a great time with the Craft Circle & their friends & relatives at the front door! And, as always it was a pleasure to watch the workshops & dances.
Sandra Nixon
2012 The Fourth Bundanoon DanceFest
2011 The Third Bundanoon DanceFest
Feedback
Thank you so much for another magical weekend of music and dance. By the way, our Scottish friends who came are working on a return trip to Australia which will include your weekend. They were sooooooooooooo impressed! Thanks again for the best dance festival in this country! Margaret & Bill Winnett
Thank you very much for all your work preparing and running the dancefest last weekend. Chantal and I had a fine time – the dancing and music were great, the glowworms were glowing, even the weather was conducive to being indoors and dancing. Geoff Lau
Thank you Dave for arranging a great weekend at Bundanoon. My friend & I travelled down from the Blue Mouontains & enjoyed the whole weekend. Robyn & Connie
Thanks for another fantastic Bunders. I was very glad we could make it. In fact, we had such a great time, Cam and I decided, while we were there, to get married. We didn't tell anyone at the time because the idea was still sinking in, but now we are letting people know. Jeanette Mill
Thank you, and congratulations on another wonderful long weekend of dance. It was simply fabulous and Richard and I both loved it.
Do the musicians realise how much they are appreciated by the dancers? Probably not. They are amazing! And the interaction between musicians and dancers is - as Margaret Winnett said - very special and quite wonderful. Just as the musicians were packing up after the ball, a couple of dancers set off on a silent waltz around the hall. Bob McInnes pulled out his fiddle again and played for them. How good is that! A triumph! Our thanks, again. Robyn and Richard Graylin
Greetings from Zargrab. So glad Bunders was another great sucess. Barbara and Lance Court
Just a wee quick email to say how much we enjoyed the weekend. We came as Irish Set dancers and went home with more skills and dances than we could believe possible. It was wonderful and the atmosphere was fantastic. I have not smiled so much in a long time. Ian and Audrey McLaren, Paisley, Scotland
Just a quick note to say thank you for another awesome weekend. Leslie and I clocked up 28 hours of dancing and I suspect it will take longer to wipe the smiles off our faces than it will for our aching calf muscles to recover. Paul and Leslie Carr
Thank you so much much for you efforts over the dance weekend. I enjoyed playing guitar for the Primary school dance.You engaged the kids beautifully. I enjoyed playing for the ball and accompanying the wonderful musical leaders. Ray Martin
THANK YOU THANK YOU THANK YOU to all the musicians, callers and organisers for a wonderful weekend. Don't change a thing! It's a perfect way to spend a weekend enjoying dance, music and each other's enthusiasm, talent & company. Fran Robertson
We had a fantastic long weekend focussed on playing a variety of dance music for enthusiastic dancers, and we enjoyed some great dancing too. Look forward to participating again next year. Roz & Shayne Kerr
Well, that was another great weekend. Even learned a few new tunes from yourself and Bob McInnes. We also educated a few of the guests in the hotel lounge with the session there. Can't wait for the next gathering. Mont (Bill Montgomery)
Thank you Dave Johnson and the bushtraditions work team for the great weekend at Bundanoon. It was most enjoyable with a great atmosphere of music, dance and fun. What a roll-up of enthusiastic musicians. All your prior preparation and attention to details over the weekend was evident and made the weekend flow smoothly.Gwen and Norm Burke
Thanks for a great weekend again. We are looking forward to next year. We were talking with Madis and Tiina and we all hope that you would like some more Estonian dancing next year at Bunders. We all had a lot of fun. Thanks again. Helen and Greg Strutt
Congratulations on another great dancing weekend. John Short
Many thanks for another great music and dance festival. I think the highlight in the Australian festival calendar. Please pass on my thanks again to the musicians for the huge input into the weekend. As a dance teacher it is rewarding to see the enthusiasm at the workshops. It is noticeable the skill and confidence of the dancers increases over the weekend and this is all done with a smile. Great to see some of the musicians on the floor dancing. Anthony Simon
2010 The Second Weekend of Bush Dancing at Bundanoon
Feedback from Callers
The weekend was beyond expectations from our perspective and I think you only had to look at people's faces throughout the weekend to see that it was for them too. Margaret & Bill Winnett
A great weekend, in all ways. The whole weekend is a brilliant concept. Many thanks! Julie Bishop
The other workshops we attended were well organised, superbly supported by the musical accompaniment, and were inclusive of both experienced and beginner dancers. Julia Smith & Arthur Kingsland
Am I interested next year? Absolutely! John Short
I would naturally be delighted to be involved in future years events. Paul Carr
I would certainly be thrilled to be involved again. Jeanette Mill
It was a wonderful weekend and I would be delighted to be a part of it again. Jim Williams
Big thanks and congratulations for great weekend. John & Aylwen Garden
from Dancers
By the way, it was a fantastic weekend. Andrew Smart
Great weekend, the workshops,the music, the dances,the people, the supper...Caroline Barrell
Fantastic weekend of dancing, great music and great company. I had withdrawal symptoms when I got home. Jacqui Bogue
I just had a ball and will make it a permanent booking for every June to come. Everything was first rate, but you really would have to go a long way to find a better line up of musicians. Virginia Carter
from Musicians
For me, there is nothing in the world better (musically that is) than playing for a room full of enthusiastic dancers. Peter Logue
The whole weekend's events had a relaxed and welcome feel and we are looking forward to next year. Helen and Greg Strutt
Great fun! Thanks, Dave Rose Moffatt
Great weekend again Stuart Leslie
Great to attend an event that is aimed at participants and not spectators! Five Stars. Denis McKay
Well that was a bloody ripper. How about putting on another one next weekend! Mont
Great weekend! Nice people.Thanks Judy Field
As a first timer I was really surprised at the enthusiasm of the dancers and the variety of dances they displayed. Bob Smith
and some pictures
2009 The Bundanoon DanceFest
(Thanks to Lance Court for the photos)